---
What is a "role model?"
A common answer would be someone that one looks up to, giving that person praise for the good deeds that he or she has done in their life.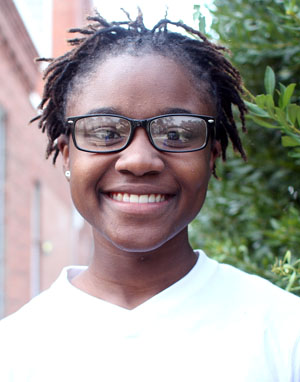 Role models are often adults, for young people and could usually be a mom or dad. But for me, my role model is my grandmother, Cecilia E. Lane, who passed away at age 58, in 2007.
I was in the third grade.
Although she had many traits that I now adore, it's her dedication, generosity and hard work that I admire the most.
Born in 1954, during the middle of the Jim Crow laws era, my grandmother did her absolute best in school, achieving her high school diploma and finding a steady job as a housekeeper. She grew to be the mother of two beautiful girls, my mom, Cynthia, and my aunt, Natalie. With her husband, my granddad, dying in 1984, she provided for these two girls by doing whatever it took.
Before he died, she even had to work hard to supply for her blind husband.
She often worked multiple jobs with the city bus as her only mode of transportation. There were nights when she wouldn't eat just so her kids could have enough. Even through her first battle with breast cancer, she kept up these practices making sure her family had what they needed to survive.
There were nights when my grandmother would take on a third job of watching me so my mom could go work. When my younger sister came along, the job was double trouble. She would continuously lift our spirits even when she was down. If anyone needed something, whether it was my mom, my aunt or me, she was there.
My grandmother Cecelia dedicated herself to her family and she generously provided for us.
She always worked hard to do so.
It was always this way, even during her second battle with breast cancer. It was through this hard work that she showed me how and encouraged me to be a hard worker with everything I do.
My grandmother was a trooper. Even at her weakest moments, she was still the most dedicated woman I knew. I often wondered where she got her hard-working traits. I remember stories of how her dad, my great-grandfather, was a hard-working man.
Although my grandmother lost her battle with breast cancer she still came out on top.
She left behind memories of a loving, caring, generous, hard-working, dedicated mother and grandmother for her family.
If she could live through Jim Crow injustice and still achieve her diploma and keep a steady job while raising a family as a single parent with no personal transportation, I know I can do whatever I need to in order to be successful. I know this because with the many things handed to my generation, few problems can be as tough as the problems my grandmother faced.
It is the success she achieved, even through her hardest times, which enable me to consider my grandmother one of the many, along with my mother, people that I look up to.
But my role model will always be grandma.
She may be gone, but because she is with me, she will never be forgotten.