---

By Ice'es Green
NCCU Staff Writer
the Durham VOICE
thedurhamvoice@gmail.com
Despite recent reports of increasing poverty in North Carolina and across the country, End Poverty Durham is sticking to its goal of ending local poverty in 25 years.
The interfaith group of leaders and community-based organizations work collaboratively through a variety of programs and initiatives. Virtually all Christian denominations are represented as well as local Jewish and Muslim congregation leaders.
Winnie Morgan, Early Childhood Faith Initiative Coordinator for End Poverty Durham and Durham Partnership for Children, says that their mission is make congregations aware of the crisis of poverty in Durham. She claims that although the group has no formalized structure, it has flourished in its mission and accomplishments.
"I have never been a part of a group that didn't have a formalized structure, such as taking minutes that lasted very long," said Morgan. "This group is amazing."
She credits the success of End Poverty Durham to Mel Williams, the lead minister of Watts Street Baptist Church, where End Poverty Durham holds its monthly meetings.
"We started End Poverty Durham about five years ago," said Williams. "For some time I had been bothered by the grinding poverty of our city, in the shadow of enormous prosperity."
Williams believes that it is "shameful and unacceptable" that Durham has a relatively high median income at $48,900, yet has a 23 percent child poverty rate and a 14 percent adult poverty rate.
"I said this to my colleague, Rev. Haywood Holderness, and he said 'Call a group of faith leaders together, and let's see what happens.' We did that, and we've been meeting monthly ever since," said Williams.
One initiative of End Poverty Durham is the Durham Economic Resource Center, which was implemented in 2009. Its purpose is to address adult poverty through job training and placement. It was modeled after the Welfare Reform Liaison Project in Greensboro, NC, a non-profit faith-based organization.
The DERC, located at 118 Hunt St., allows low-income residents to purchase items at a reduced cost. Its main focus, however, is to draw people in to receive job training.
"In two years, we have trained 100 people, with 70 percent finding jobs or higher education," said Williams.
Another initiative of End Poverty Durham is the Early Childhood Faith Initiative. Formed as a partnership with Durham's Partnership for Children, its focus is to raise awareness in the faith community about the importance of child development from birth to age five.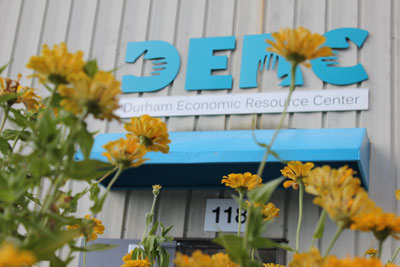 Several congregations throughout Durham have implemented prevention programs to correlate with the mission of the ECFI.
Jessie Larkin, reverend of Mt. Sylvan United Methodist Church and a partner of the EFCI, claims that many children in poverty are already behind before they even get to kindergarten, and that parents must be aware of the importance of brain development.
"There are three ways to aid in brain development," said Larkin. "You can intentionally talk to children, read to them, or sing to them."
Larkin states that if children are not exposed to these activities, the brain development withers, and the connections in the brain simply don't happen.
"Hopefully if we educate parents on brain development, they [the children] can live up to their full potential," said Larkin.
"[We want] to keep the focus on whatever we can do to alleviate the 23 percent child poverty rate," said Williams.
A main focus of the Early Childhood Faith Initiative is the prevention of child abuse. Child abuse negatively affects brain development in children, causing them to not be as successful as they can be. Larkin says that her congregation has several programs in place to help this cause.
"We want to ensure that we created the safest place possible," said Larkin. "We learn a lot of things that are going on in the kids' lives that may not have been known."
Larkin states that the Methodist church is required to have programs implemented to stop child abuse, and that it is their top priority in her congregation.
Along with the aforementioned initiatives, Williams claims that there are several efforts that End Poverty Durham supports.
"We also serve as a networker/coordinator for other anti-poverty efforts—like KidZNotes, teaching music to low income children, Benefit Bank, which now has 27 locations in Durham, using volunteers with a computer at various sites, to help low income residents access the federal benefits to which they are entitled. We've also focused some on food security," said Williams.
Williams is also on the Board of Religious Coalition for a Nonviolent Durham, as well as the Board of Walltown Neighborhood Ministries.
"In working with RCND and WNM, I discovered that [one of] the root causes of our various social problems is poverty.  Thus came the motivation to start End Poverty Durham."