---
Want fresh, in season, and affordable produce that is locally grown? Look no further than the Veggie Van.
The Veggie Van is a non-profit organization that delivers produce at different locations in Durham, Chapel Hill and Carrboro.
Kate Floyd, program manager for the Veggie Van, said that the main goal of the organization is to provide everyone access to healthy food.
"There is a proven market here for fresh, healthy produce," Floyd said.
The Veggie Van receives produce from local farmers and larger producers in N.C.
Once the produce is received volunteers and staff section the produce into portions to put in boxes for customers to pick up for an affordable price.
Customers can choose what size box they want to receive based off of how many people he or she wants to feed.
The Veggie Van is largely run from the help of volunteers.
"We have a really passionate team of people," Floyd said.
Floyd said there are usually two to four volunteers at each distribution site every week and they have volunteers who help portion the produce and package it in boxes.
Spencer Wright, a volunteer for the Veggie Van, said that he enjoys the interaction with customers.
"It's nice to feel like you are making an impact. I want to volunteer here as long as possible," Wright said.
Bernard Liles, a volunteer, said he found out about the Veggie Van from a flyer at Durham Tech and wanted to give back to the community.
Liles said, "I like meeting people and seeing familiar faces."
Floyd said that there are about 100 to 300 people who come weekly to pick up their boxes.
Jannah Bierens, a health educator, said that she makes recipes for the customers every week based off of what produce the Veggie Van has available.
"I love to cook and get lots of great ideas [for recipes] or make stuff up and see what happens," Bierens said.
Marissa Mortiboy, a customer of the Veggie Van, said, "My favorites thing is the convenience and price [and] I don't have to go to the store."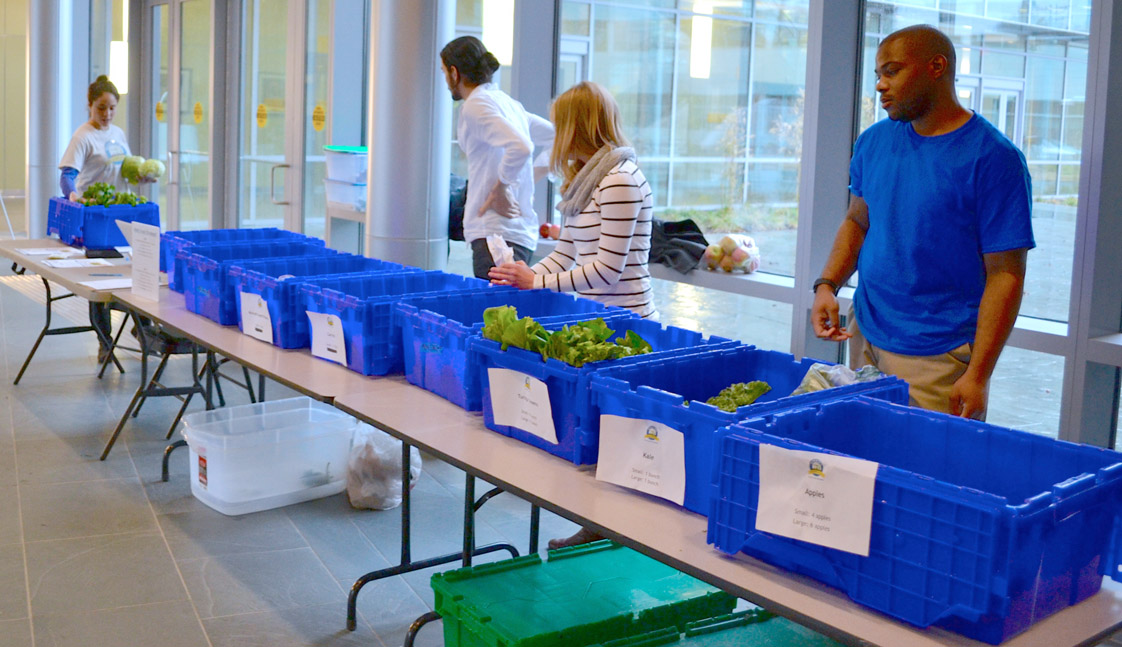 The Veggie Van receives different kinds of produce every week that allows customers to experiment.
Bierens said that she builds her meals around the food that she purchases from the Veggie Van.
"This is amazing, I've never eaten so many veggies and fruits in my life."
Mortiboy said that the Veggie Van is great for the community because of the reduced price of the produce.
"It makes it more affordable and I get things I normally wouldn't try," she said.
Karla Capacetti, a part time site coordinator, said that she looks forward to seeing customers every week.
Capacetti said that customers can sign up and pay for their produce one week in advance at the site of their choosing.
"The great thing about it is that it's open to anyone in the community," she said.
The Veggie Van delivers to areas around the Triangle but their permanent distribution sites are located at Durham Tech on Thursdays from 12 p.m. until 1 p.m., the Piedmont Health Clinic in Carrboro on Thursday evenings from 4 p.m. until 6 p.m., and at the Durham County Health Department on Fridays from 12 p.m. until 2 p.m.
Floyd said that, this year, the Veggie Van is expanding.
"Eventually we want to have pop-up shops that are run by the community," she said.
For more information about the Veggie Van and their partners, visit their website. And to volunteer, fill out an application on their website.